About Doug's
Locally Owned Business For Over
60 Years
Doug's Heating & Air Conditioning has provided the Quad Cities heating and cooling services for residents and businesses in Iowa and Illinois for over 60 years. We pride ourselves on enduring service and value, and we're always ready, providing 365 days a year, 24/7 service.
Locally Owned For Over 60 Years
Factory-Trained, Licensed & Insured Technicians
24/7/365 Emergency Service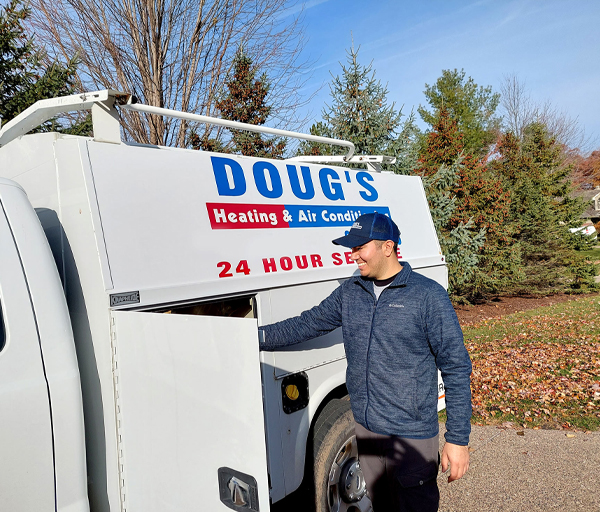 Raising Your Expectations
Doug's Heating & Air Conditioning prides itself on enduring service and value. You can expect timeliness and cleanliness on the job sites, which saves you hours of time and trouble. Their fleet includes over 15 service and installation vehicles, so we're always ready – 365 days a year and 24/7 service.
Fast, friendly, clean and efficient, Doug's takes care of your Residential Heating and Residential Air Conditioning needs. Whether you're replacing your heating or air conditioning systems or needing preventive maintenance or emergency service in the Quad Cities or surrounding Area, you should contact Doug's for your best solution.
When you choose Doug's Heating & Air Conditioning for your source of quality heating and cooling equipment, you choose a respected company with a guarantee on the quality of our service. From the first call you make to the time we leave your home or business, you can trust that our entire team will follow the 7-Point Guarantee:
Arrive during a 2-hour window
Respond within 24 hours for emergencies
Use of booties to protect your floors
Provide free estimates
Cleanup of any mess we create
Send friendly, honest service technicians
Ensure your satisfaction with any new equipment
Our Team
Meet Our Technicians
Sed risus augue, commodo ornare felis non, eleifend molestie metus. Donec nec purus porttitor, ultrices diam id, laoreet mi. Aenean sit amet enim quis massa pharetra eleifend.
WHY CHOOSE US
The Best in the Quad Cities
Testimonials
What Our Customers Say
Alex, from Dougs Heating and Air, did an awesome job for me today. He was very patient and answered all the questions I had about my system. He did not rush through the job and took the time to listen to my concerns. I highly recommend Doug's!
Julie
Doug's Heating and Air installed our furnace and a/c in 2004 and they have done routine service for us every year. They have good people, doing a good job with the service on their products.
Rick
Alex was very clean and efficient. He got everything done properly on the checklist. I would highly recommend Doug's and Air Conditioning to everyone.
Pamela
The service tech was timely, respectful, accommodating , honest, and knowledgeable! He was not afraid of our dog (she really liked him!). I would give our technician 100 stars if possible!!!!
Linda
My furnace was emitting CO-carbon monoxide on a cold day in December. Doug's quickly sent a repair tech (same day), determined my furnace was dangerous, shut it down and completed repairs. 5 Star service for me. Thank you, Doug's.
Cindy
Everyone that works for Doug's has been very professional and knowledgeable. They have performed well with both the installation of the new furnace and AC and the maintenance of these items. We have been very happy with everything Doug's has done.
Gene
Great service!! Showed up same day and on time. Professional and explained everything fo questions I had. They were quick to getting everything up and running with my heater. We will use again and would definitely recommend them to anyone needing service.
Michael
Young man came out to my house and explained to me exactly what was wrong and what I could do in the future to prevent the issue from happening again. I have never had a company do that for me. I will always use Doug's Heating!
Matt
SOME OF OUR
Quality Brands
Popular Questions


About Our Company

FAQ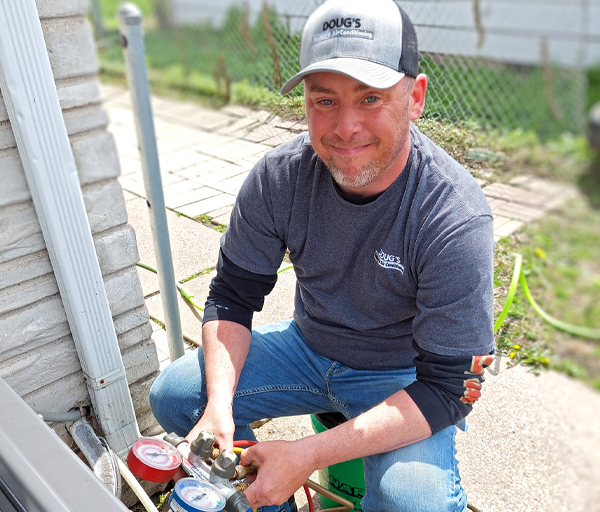 Ready to Get Started?
Contact Us for
Quality

and

Expert Service
You can rest assured knowing that our team will stand by their work and your satisfaction is 100% guaranteed with us. We treat your family like our family.
How Can We Help You?

Request Appointment: