Does Your Old AC

Need Replacement?
You can rest assured that your satisfaction is 100% guaranteed and that our knowledgeable team will stand by their work.
Locally Owned For Over 60 Years
Factory-Trained, Licensed & Insured Technicians
24/7/365 Emergency Service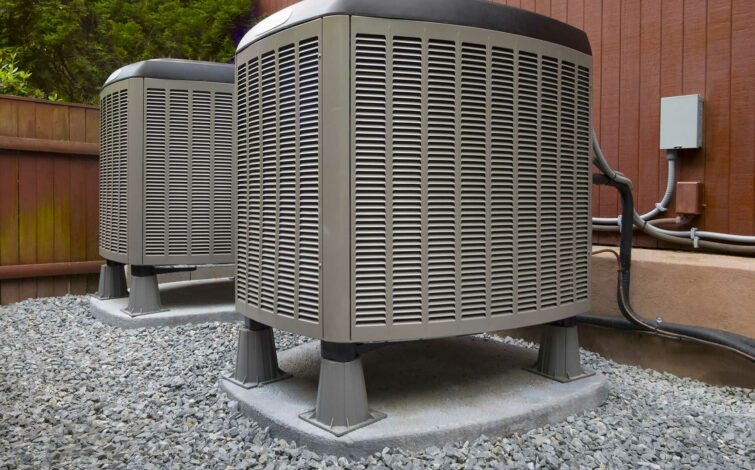 Trusted Air Conditioning Installation in the Quad Cities area of Moline, Rock Island, Davenport and Bettendorf
Older units generally have an Energy Efficiency Ratio or SEER rating between 8 and 12, whereas the newest AC units have a SEER rating of 26. That is a way you could start saving money on your monthly expenses!
When the cost of constant repairs and increasing power bills gets to be too much, replacing the unit can sometimes be the least costly choice. Our installation experts at Doug's can help you understand all the options you have so you can make an informed selection for your house and budget.
Replacing central air conditioning units can get expensive, but homeowners usually only buy brand-new air-conditioning systems once. We're prepared to guide you in determining the best system for your home.
Call us today to have our expert install technicians assess your current system and provide a FREE estimate on new air conditioning installation today!
Is It Time to Install a
NEW Air Conditioning

Unit?
If your air conditioning unit is over 10 years old, it will become increasingly unreliable, and even if you are proactive about the maintenance of the unit. Regardless of the quality of your system, constant use diminishes its overall life expectancy. As your HVAC approaches the end of its service lifespan, repairs will become more common and progressively more expensive. It may be time to consider replacing your aging unit with a newer and more efficient model. Our experts are ready to give the advice you need so that you can have the best fit for your home.
Signs You Need a Replacement:
Your Unit is More Than 10 Years Old
Starting To See More and More Repairs Needed
Increase in Your Utility Bills
Featuring

the York Affinity Heat Pump
Saving on summer cooling feels great! The York Affinity Series of air conditioners offer innovative technology and environmentally friendly refrigerant to provide one of the most energy-efficient cooling options available. Plus, Quad Cities residents can choose from several durable colors to match or complement your home.
With Seasonal Energy Efficiency Ratios (SEER) up to 18, you can save over hundreds of dollars per year on your utility bills. Your initial investment pays off faster than you can imagine — and it keeps saving you money for years! Contact Doug's Heating & Air Conditioning today to calculate your potential savings and schedule your convenient installation.
Interested in a
Rent to Own

HVAC System?
Atwood Rentals HVAC offers worry-free rent-to-own HVAC systems. We work with homeowners declined by traditional air conditioner finance companies. We've designed our rent-to-own program to work for you. It doesn't matter if you have a low credit score or financial challenges from the past. Atwood Rentals HVAC is here to help and will treat you with respect and dignity along the way.
HOW CAN WE HELP?
Our
Services
Fast, friendly, clean and efficient, Doug's takes care of your Heating and Air Conditioning needs. Our fleet includes over 15 service and installation vehicles so we're always ready—365 days a year and 24/7. Whether you're replacing your heating or air conditioning systems, need preventive maintenance or emergency service in the Quad Cities or surrounding Area, Doug's has you covered!
WHY CHOOSE US
The Best in the Quad Cities
Ready to Get Started?
Contact Us for
Quality

and

Expert Service
You can rest assured knowing that our team will stand by their work and your satisfaction is 100% guaranteed with us. We treat your family like our family.
Book a
FREE Estimate


On Your Project Today!