Do You Need

Generator

Service?
You can rest assured that your satisfaction is 100% guaranteed and that our knowledgeable team will stand by their work.
Locally Owned For Over 60 Years
Factory-Trained, Licensed & Insured Technicians
24/7/365 Emergency Service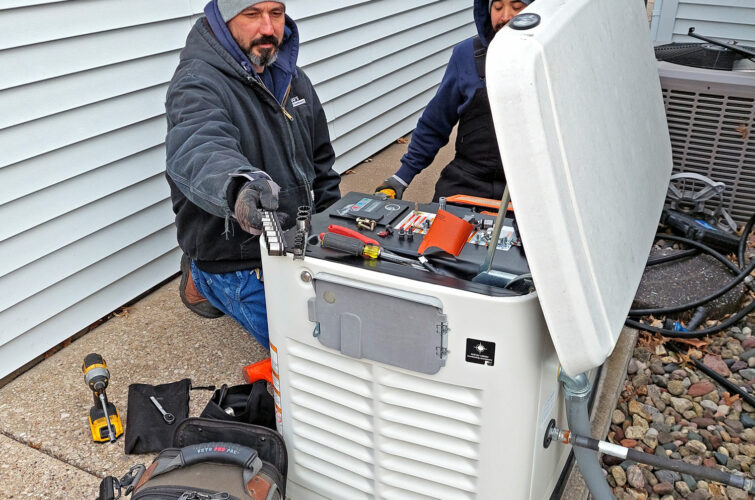 Trusted Generator Services in the Quad Cities area of Moline, Rock Island, Davenport and Bettendorf
Weather in the Midwest can change in a heartbeat, and it can affect your life and have a devastating affect on your business. If you've lived in the Quad Cities area even for a short time, you know ice, wind, tornadoes and floods can leave your family or business without power for days on end. Now, you can keep your home or business operating with a backup power generator. Doug's can help you select the right Generac generator for your power usage at home or at work. We service what we sell as well, so take control and contact us before the unexpected leaves you in the dark.

Generac has created the home backup generator category. Today, they are preferred by 8 out of ten homeowners who decide to install a whole home generator.
A permanently installed home backup generator protects your home from power outages automatically. It runs on natural gas or liquid propane fuel, and sits outside just like a central air conditioning unit. A home backup generator provides electricity directly to your home's electrical system, backing up your entire home or just keeping the most essential items running.
HOW CAN WE HELP?
Our
Services
Fast, friendly, clean and efficient, Doug's takes care of your Heating and Air Conditioning needs. Our fleet includes over 15 service and installation vehicles so we're always ready—365 days a year and 24/7. Whether you're replacing your heating or air conditioning systems, need preventive maintenance or emergency service in the Quad Cities or surrounding Area, Doug's has you covered!
WHY CHOOSE US
The Best in the Quad Cities
Ready to Get Started?
Contact Us for
Quality

and

Expert Service
You can rest assured knowing that our team will stand by their work and your satisfaction is 100% guaranteed with us. We treat your family like our family.
How Can We Help You?

Request Appointment: