Does Your Old Heater

Need Replacement?
You can rest assured that your satisfaction is 100% guaranteed and that our knowledgeable team will stand by their work.
Locally Owned For Over 60 Years
Factory-Trained, Licensed & Insured Technicians
24/7/365 Emergency Service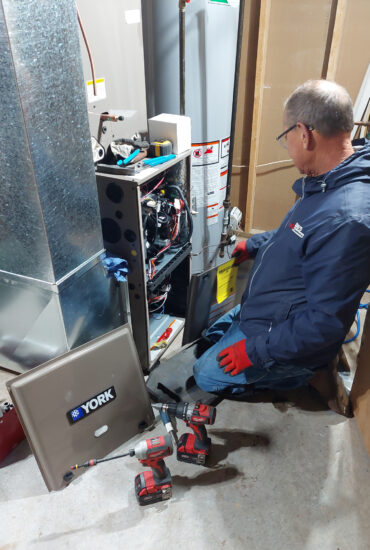 Trusted Heating Installation in the Quad Cities area of Moline, Rock Island, Davenport and Bettendorf
When it comes to furnace service and installation, Doug's Heating & Air Conditioning is not only considerate of your physical comfort, but also your time and your property. We've made scheduling easier for you with 2-hour windows, which means less waiting. Call Doug's anytime — including holidays and weekends — for emergency repair service, or set up an appointment to review personalized replacement options.
Customers respect and trust Doug's staff for quality work as well as their courteous clean-up skills. A 10-year warranty on furnace parts installed by factory-trained technicians provides yet another advantage.
Is it Time to Install a
NEW Heating Unit?
When the cost of continuous repairs and monthly bills start to add up, in most cases it can be more economical to replace the unit. Our installation team at Doug's Heating & Air Conditioning can go over your options so that you can have all the information you need to make the best decision possible for your home and budget.
Older furnaces were 78-80% efficient, whereas new furnaces are up to 98%+ and have high efficiency motors that save on energy costs. That's some serious savings on your monthly bills!
Signs You Need a Replacement:
Your Unit is More Than 10 Years Old
Starting To See More and More Repairs Needed
Increase in Your Utility Bills
Your Furnace is Noisy
Featuring the York Affinity Furnace
Furnaces have advanced beyond simple on-or-off heating. The York Affinity Furnace features variable speeds to provide the highest comfort level and efficiency possible. With quiet, steady circulation of air, the Affinity's air quality options reduce particles and allergens, making your home a healthier place to live.
The high-efficiency models keep fuel bills low and help preserve the environment. While these furnaces reduce your energy footprint, they also offer a compact size to help conserve space in your home. The York Affinity Furnaces can be paired with whole-home humidifiers and air quality systems to ensure a healthier home.
When updating your furnace, let Doug's Heating & Air Conditioning show you the virtues of the York Affinity with EnergyStar® designation.
Interested in a
Rent to Own

HVAC System?
Atwood Rentals HVAC offers worry-free rent-to-own HVAC systems. We work with homeowners declined by traditional air conditioner finance companies. We've designed our rent-to-own program to work for you. It doesn't matter if you have a low credit score or financial challenges from the past. Atwood Rentals HVAC is here to help and will treat you with respect and dignity along the way.
HOW CAN WE HELP?
Our
Services
Fast, friendly, clean and efficient, Doug's takes care of your Heating and Air Conditioning needs. Our fleet includes over 15 service and installation vehicles so we're always ready—365 days a year and 24/7. Whether you're replacing your heating or air conditioning systems, need preventive maintenance or emergency service in the Quad Cities or surrounding Area, Doug's has you covered!
WHY CHOOSE US
The Best in the Quad Cities
Ready to Get Started?
Contact Us for
Quality

and

Expert Service
You can rest assured knowing that our team will stand by their work and your satisfaction is 100% guaranteed with us. We treat your family like our family.
How Can We Help You?

Request Appointment: