Interested in

Geothermal

Service?
You can rest assured that your satisfaction is 100% guaranteed and that our knowledgeable team will stand by their work.
Locally Owned For Over 60 Years
Factory-Trained, Licensed & Insured Technicians
24/7/365 Emergency Service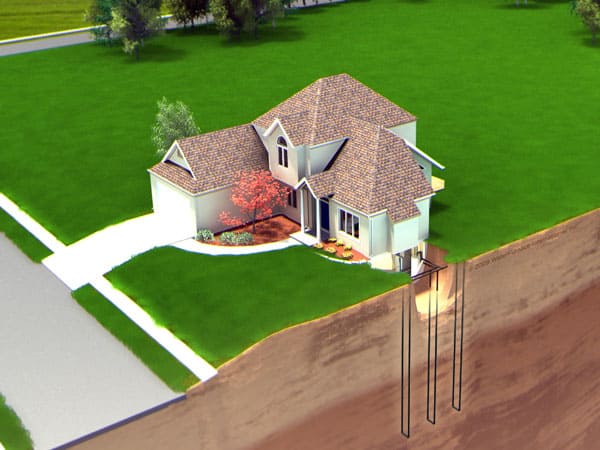 Trusted Geothermal Services in the Quad Cities area of Moline, Rock Island, Davenport and Bettendorf
New Geothermal HVAC systems have a lot to offer homeowners. It is capable of heating and cooling your home more efficiently than other systems. This is because of the insulating properties of earth. In the winter temperatures several feet underground is actually warmer than the air above it; and during the summer the ground is much cooler. 
The Geothermal System will either absorb heat from the ground in the winter or release that heat into the ground in the summer. In the summer, when the ground's temperature is typically cooler than the air temperature above it, the heat pump draws the heat out of your house and cycles it in to the yard to help cool it. In the winter however, the ground is warmer than the air in your home, it will then pull that heat from the ground to cycle in to your home.
Geothermal HVAC systems have many components a normal forced-air system doesn't have. If you need your geothermal equipment to be serviced or repaired, be sure to hire an HVAC contractor who has experience with or specializes in geothermal systems. At Doug's, we perform geothermal system installations frequently, and we know how to troubleshoot and fix both common and uncommon problems.
Whether you live in Moline, Rock Island, Davenport or Bettendorf, our experts will respond quickly and fix your geothermal system fast.
Why Choose a
Geothermal

Heating & Cooling System?
Are you seeking methods to save money on energy costs? Due to the ever-increasing price of energy, it shouldn't come as a surprise that many residents of the Quad Cities and around the country are searching for methods to save on their monthly bills. Considering that almost 50% of the energy the average American family uses every year is used at home, it's evident which part of the expense can reduced the most.
Upgrading your home to an energy-efficient system is a great way to reduce your spending on utilities. The greatest advantage of geothermal heat is that it uses up to 25% to 50% less electricity than standard heating systems. Note that it's an investment in your home, but one that will still result in savings.
Advantages of Geothermal Systems:
Very Durable and Require Little Maintenance
One of the Most Energy-Efficient Systems Available
Extremely Cost-Effective
Safer for the Environment and Your Family
HOW CAN WE HELP?
Our
Services
Fast, friendly, clean and efficient, Doug's takes care of your Heating and Air Conditioning needs. Our fleet includes over 15 service and installation vehicles so we're always ready—365 days a year and 24/7. Whether you're replacing your heating or air conditioning systems, need preventive maintenance or emergency service in the Quad Cities or surrounding Area, Doug's has you covered!
WHY CHOOSE US
The Best in the Quad Cities
Ready to Get Started?
Contact Us for
Quality

and

Expert Service
You can rest assured knowing that our team will stand by their work and your satisfaction is 100% guaranteed with us. We treat your family like our family.
How Can We Help You?

Request Appointment: